Slots are the most fun games to play and are mostly a worldwide favourite. They are simple and interesting, usually with a ton of incredible bonus features. They have gone through quite the metamorphosis with the progression of time. Now, there are thousands of slot games available, with all sorts of themes, features, and payouts.
The History of Slots
The history of slots begins with the physical fruit machines in casinos. However, they have an even older ancestor from 1891. Two Americans created a slot machine based on poker, containing five drums which held overall fifty card faces. Then, later on, a machine called Liberty Bell came into the spotlight as its predecessor could not have automatic payouts which was becoming a problem.
The creator of the Liberty Bell machine, Charles Fey, used three reels instead of five drums and replaced ten cards with five symbols. Thus, creating an automatic payout mechanism was considerably easier. One of the five symbols was a Liberty Bell, hence the name.
Both of these initial variations of slots had a side lever but during the 1960s, the electromechanical era made levers pointless. Soon after, slot machines started developing at an ever quicker pace, starting with the creation of the first true video slot in 1976.
After the invention of the Internet and the subsequent development of online casino software, the development of online slots was inevitable. In fact, there are more variations of online slots than any other gambling game.
Understanding Online Slots
Slots are pretty straightforward but there are still some key features that may confuse a novice player. Not everyone immediately understands how the paylines in slots work or what wild symbols are. In this section, we will explain what they all mean and how they work, in order to facilitate and better your experience.
The Reels
The reels, or drums, were the cylinders on which the symbols were placed and spun. Slot machines started out with five reels, however, soon after three-reels slot machines became far more popular. Initially, they did not offer great rewards. Later on, producers of slot machines devised a way to make certain symbols appear less frequently than others. This, along with the addition of more symbols, allowed for jackpots to increase as the chance of getting the winning combination required, became smaller.
Then the Random Number Generator machines came into play and were implemented in slot machines, making them a true game of chance. Once again, technology was developed so that some symbols could appear more frequently than others. Nowadays, the reels remain only as a remnant of the past as the games are purely electronic now and there are no actual reels spinning.
Paylines
The paylines in early mechanical slot machines were a bit tricky as we already mentioned. The three-reels slots usually had only one payline. Modern slots can have more than 100 paylines which guarantees a win if you have placed a bet on the right one. Paylines can be as simple as getting three matching symbols on the same line and as complicated as zigzagging lines all over the place. In some games, there are set paylines and in others, you can pick the number of paylines you wish to bet on. In any case, you can view the winning combinations on the paytable.
Paytables
A paytable in a slot game contains all the possible winning combinations as well as additional information about the game. If the paylines are not immediately visible, you will find them in the paytable too. There is also information about the bonus features of the game and the different symbols it may contain. It is usually accessible through a shortcut on the base screen of the game, and may sometimes be presented when the game first loads.
Game Controls
These are mostly quite simple to understand and find. The spin button is immediately visible in all slot games. There are additional buttons for autoplay sometimes, while other times you need to go to the game's settings in order to access autoplay mode. In autoplay mode, you can choose a number of spins you wish to play in a row, though you can usually stop them at any point with a 'stop' button. You can also usually regulate the sound volume and the speed of the game. There may be buttons for each payline too. Of course, there are buttons that help you regulate the bet that you are placing.
Special Symbols and Features
Most modern slots have wild symbols. These symbols substitute for all others except bonus symbols. You usually need three or more bonus symbols to enter a bonus round. A bonus round may be anything from picking one out of five coins, to a whole quest. Some symbols or bonus rounds may give you free spins. Their number can vary but they are always the same thing – spins that you do not pay for but could still land you a win. Scatter symbols can score you a win without landing on a payline, all they need to do is land next to eachother. A single scatter symbol usually has no function. Sometimes scatter symbols can trigger bonus rounds or multipliers.
Types of Online Slots
With the internet's massive progression and the incredible rate of technological development we are experiencing today, slots have had to evolve into what we know them as today. You can still find classic 3-reel slots but you can also find incredibly detailed video slots, with amazing features and beautiful 3D animation. Not to mention all the progressive slots out there that have given multiple life-changing wins. In this section, we will go over the main types of slot games available at the moment.
Classic 3-Reel Slots
These slots usually do not only have 3 reels and 3 rows but also look and feel old-timey. They are usually quite simple and have very few paylines but can result in amazing wins. Another typical feature is the BAR symbol, which is derived from an early logo of the Bell-Fruit Gum Company. All the fruit symbols are derived from
those times because slot machines used to pay in food and drinks, and yes, chewing gum.
Video Slots
Video slots are the ones we know today – the completely computerized version of the classic machine game with countless features. These slots can look and feel as classic as the 3-reel slots but can also be as modern and relevant as possible. There are plenty of movie or TV show-themed slots nowadays, along with such that simply follow the trends. They usually have 5 reels and 3 rows and far more paylines than their classic counterparts.
3D Slots
Many slots use 3D animation, which only further proves that the development of technology motivates the development of slot games as well as everything else. Now, slots have beautiful animation sequences, great graphic designs, and many unique visuals. Even the symbols are 3D and usually, you get a character at the side of the base screen who moves and speaks occasionally or when you get a win and so on.
Progressive Slots
Progressive slots are those with a jackpot that increases the more people play. A portion of each bet a player places goes toward the jackpot pool and it continues to grow until someone wins it and then the process starts anew. That does not mean that after someone wins the jackpot there is no longer a jackpot – it simply means that it is smaller and could become far larger.
243-Ways-to-Win
243-Ways-to-Win slots do not have paylines but instead winning combinations of symbols. In order for a combination to pay, three or more of the same symbol need to be on neighbouring reels, more or less acting like scatter symbols. This may not apply to special symbols. Despite the name, there are variations of this type of slot that have more than 4,000 winning combinations. They are becoming quite popular and can be easily found at any online casino. Just like with any other type of slot, you can view the winning combinations in the paytable, as well as all the special symbols and bonus games.
Top Software Suppliers
Naturally, you cannot have a software without a software supplier. The world of online gambling is no exception and in fact, offers a larger number of software providers than many other industries. On top of that, there are constant innovations in the field. There are many online gambling software developers but some names definitely stand out more than others.
Microgaming
Microgaming is one of those names, as it is so emblematic that you can recognize its games immediately. It has an unbelievable collection of slot games that includes all types of slots. After all, it is precisely this software provider that is credited with the development of the very first online and then later on, mobile casino software. Additionally, it is actually a founding member of eCOGRA, which stands for e-Commerce Online Gaming Regulation and Assurance, so you can rest assured that any game by this provider is fair. Microgaming has the largest progressive jackpot network in the world and holds the record for the highest slot machine jackpot payout.
NetEnt
NetEnt is definitely another name that comes to mind when talking about slots. This software supplier has been a pioneer in the industry for over twenty years. Its team of highly-qualified experts strives to create the best gaming experience possible. It is precisely NetEnt's games that offer some of the most memorable graphics and animation sequences. This provider is also a favourite in mobile casino gaming as it offers incredible quality on any device and with any internet speed.
Playtech
Playtech is the go-to provider when it comes to mobile gaming. They offer amazing cross-platform compatibility software and some of the best slots. All Playtech games have a readily accessible autoplay button, as well as many other options for customization. Its games have some of the best designs and are among the most user-friendly ones. Not only slots, but all games by Playtech offer the best performance one can ask for.
Betsoft
Betsoft is one of the most popular software providers because of its amazing graphics. In fact, it focuses most of its efforts on creating a truly visually stunning experience. Its products are Flash-based or created with HTML5 code, so its games are all instant-play. Betsoft provides a gaming experience that can only be described as cinematographic. It has some of the best critically acclaimed 3D slots that are both engaging and modern.
IGT
Naturally, IGT, or International Game Technology, is another notable software supplier when it comes to slot games. It is one of the largest providers of slot games in the world, and if you are an experienced player, you are bound to have come across its titles. Its focus is on what customers want, so they provide both operators and players with precisely the game they desire. It is definitely one of the best software suppliers at the moment.
Mobile Slots
The mobile versions of slots have come a long way just as mobile casinos have. The development of mobile software and cross-platform compatibility technology has naturally affected the stage at which slot games stood. They used to have separate apps or act up a bit on mobile browsers, but now they are fully operational, and there are even slot games designed specifically for mobile.
Slots now have all their desktop features on mobile as well. New software provided by the suppliers we have listed above is making the mobile slot experience better all the time. At the moment, most slots work perfectly when opened directly from your mobile browser, available for instant-play.
This can be accomplished with Flash, JavaScript, and HTML5 code-based software. The last one is the most recent and so only newer games have been created with this type of code. However, software providers usually keep their products up to date with some maintenance every now and then, so you can play older games with ease too.
Most Popular UK Slots
There are some slots that are simply better than others. Whether it is because of the astonishing visuals, the immersing sounds, the flawless gameplay, or just the massive wins, some slots have what it takes to rise above the others. Here, we will briefly review a few favourites for you.
Age of the Gods: King of Olympus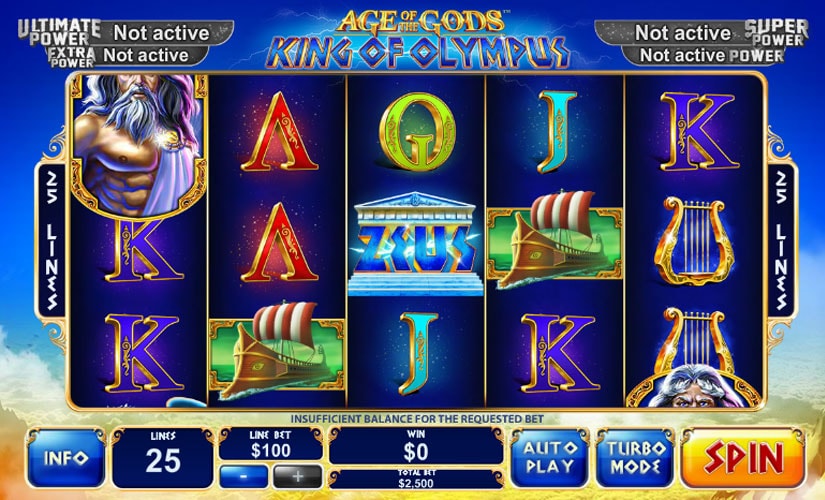 This is a truly exciting new addition by Playtech. The software supplier has been developing the Age of the Gods games for a while now. The series includes not only slots but also a roulette game among others. This franchise has gained a lot of popularity over time and now, this new game is expected to increase it.
It is a 5-reels, 25-paylines game and has four progressive jackpots. It also includes other bonus features like free games with a growing multiplier and a Zeus wild symbol which can lead to a win of 3,000 times your bet. As with the other games from this franchise, King of Olympus gives better payouts with a higher bet. You have a better chance at entering the jackpot round this way too.
Visually, the game is stunning. The artwork is beautiful, created in a manner that definitely makes you think of a tale as grand as a Greek myth. The music definitely adds to that experience, as it is something you would expect to hear in a movie theatre.
Epic Ape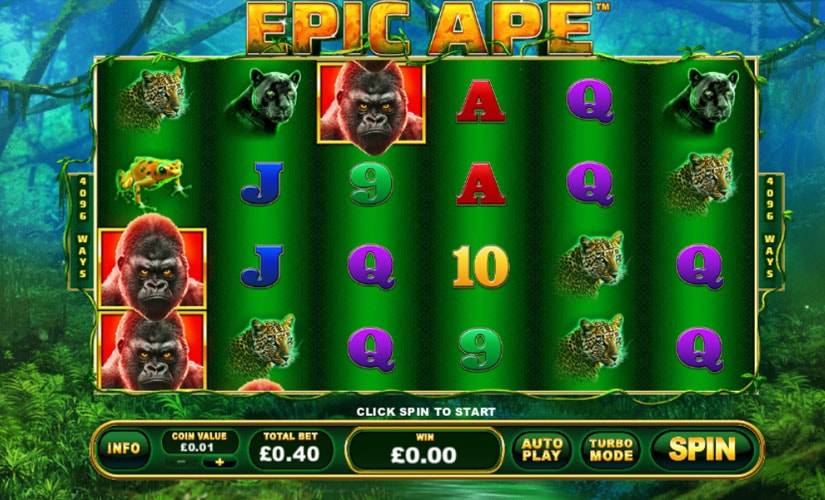 This is another slot by Playtech. It has a jungle theme and some great features. It is another game that has been growing in popularity. In all likelihood, the key to that is its astonishing atmosphere. This slot not only has the look of a jungle, it also has the sounds. This offers a truly epic gaming experience.
Unlike most, this slot has 6 reels and 4 rows. You can win in 4096 different ways which is also pretty amazing. Another wonderful feature is the special symbols' function. The scatter symbol can get you up to 100 free spins, which can be retriggered and have multipliers. In fact, free games can be retriggered infinitely. The wild symbol, which is of a diamond, multiplies wins by up to five times.
Plenty O'Fortune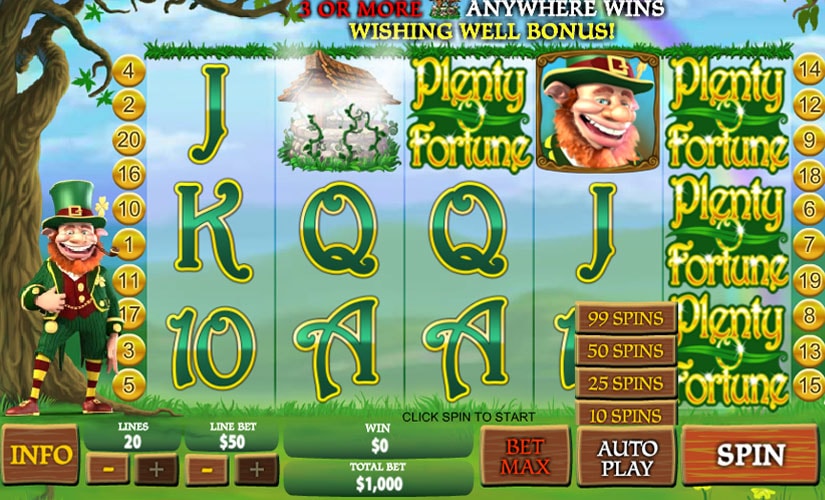 This slot game is as Irish as one can get, starting with the intro involving a dancing leprechaun and Celtic music. The game is predominantly green and has not one but three bonus features. This is another slot by Playtech and it has 5 reels and 20 paylines.
The bonus features of this game are actually very common. It is incredible how quickly you can trigger a bonus round. One of them is called the Free Games Bonus and, you guessed it, it gives you free spins. They are 12 and cannot be retriggered but there are multipliers. Another is the Wishing Well Bonus, triggered by the Wishing Well symbols. The more you get – the bigger the win. And lastly, there is the End of the Rainbow Bonus, which takes you to a different base screen, and once again the number of triggering symbols matters.
Plenty O'Fortune is wonderfully animated and features a 3D leprechaun on the side of the base screen that sometimes speaks, dances and cheers. The game is beautiful and very fun to play.
Justice League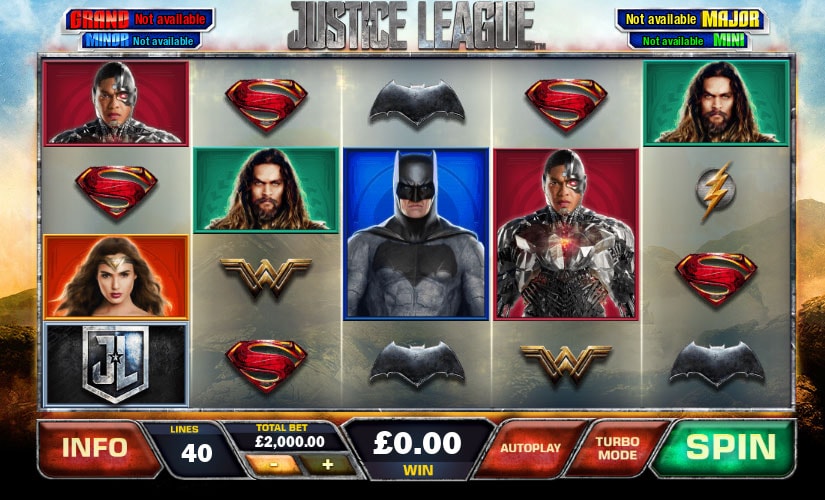 Justice League is another Playtech slot based on the famous superhero movie by DC. The game features all main characters, who have their very own symbols, which can be stacked. The slot also has symbols with their logos and is overall entirely faithful to the movie.
The game has 5 reels and 40 paylines and features six different free spin bonuses for each superhero. The maximum number of free spins you can get is 15 and then retrigger 15 more, making up a total of 30. Each free spins bonus has different features.
The game also offers four progressive jackpots – a Mini, Minor, Major, and Grand. The last one offers the biggest win, however, the free spin bonus features can also result in incredible wins. Despite having the smallest number of free spins, the Batman free spins bonus is the most lucrative of all as it has the largest number of stacked wilds.
Starburst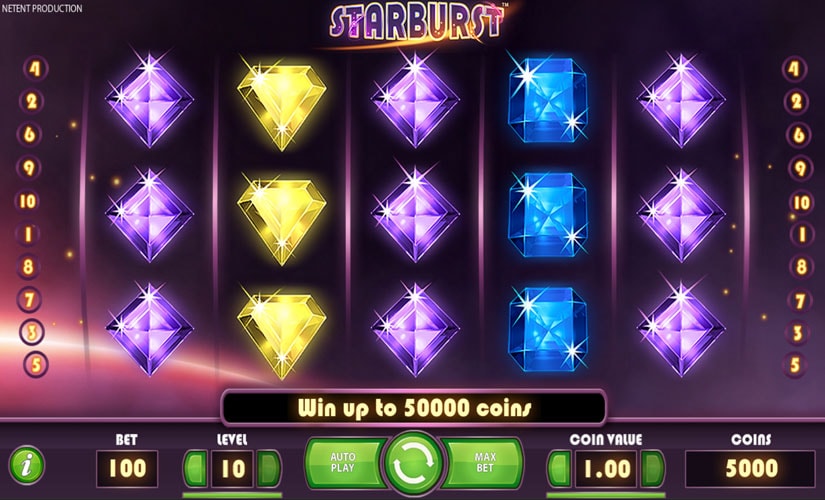 Starburst is an incredibly famous NetEnt slot. It has 5 reels and only 10 paylines and yet it has been a huge success. The game offers great payouts and despite its simplistic nature, it actually looks stunning and has a great soundtrack.
The game has two bonus features – one of them is triggered by the expanding wild symbols and can lead to a total of 5 free re-spins. The other bonus feature is that the winning combinations pay both ways. Usually, a winning combination must be arranged from left to right in order to pay, but in this game, the opposite also works.
FAQ
Usually, at any casino, be it online or brick-and-mortar. You can, of course, find more slots online than in a physical casino.
There is no exact number because there are simply all sorts of slot games out there. Chances are, if you think of a theme, there will probably be at least one slot game with it.
Many slot games are frequently checked for fairness. Additionally, if the game you have chosen is by one of the software suppliers we have reviewed, it is definitely fair as they have a set standard that they do not deviate from.
You can play slot games both for free and for real money. Not all software suppliers offer a demo of their games but most do and you can usually even try it on their websites. However, keep in mind that if you play for free, your winnings will only be virtual.