When you are exploring the online casino entertainment industry, you will definitely come across many video poker variations. If you are not sure what is exactly so different about video poker that it is a whole separate category in most web-based casinos, you can read this article and get familiar with the game.
There is a reason why this type of casino entertainment is called video poker. It uses the rules of five-draw poker and players must be well aware of the cards that form a winning hand. Thanks to video poker gambling enthusiast can apply their knowledge and strategies for poker. In addition to the similarities with the classic card game, video poker also shares some common features with slots. Players will notice that this type of casino game includes the element of luck and randomness just like slots machines.
A lot of people enjoy playing video poker since it combines the thrill of not knowing what you will get, with the strategic side of classic poker. Many players believe that if the right type of video poker strategy is used, the game can bring impressive payouts. It is definitely worth exploring the possibilities of video poker and try to turn the odds in your favour.
What makes this casino game even more exciting is the fact that there are quite a few progressive jackpot versions of video poker. This way gambling fans will have the chance to become instantly richer and change their lives forever.
Difference between Classic Poker and Video Poker
If you compare classic poker to video poker, you will notice that the hand ranking system is the same with both of the casino games. However, there are most certainly some differences between the two types of poker. This explains why video poker has become an entirely separate category at web-based casinos.
When playing video poker you will notice that every version of the game pays more for a full house than for three of a kind. There are also variations that pay the same amount for a straight and a flush. In addition to that, sometimes straight flushes do not pay more than four of a kind. Those who are fans of classic poker will know that royal flush pays more than a king high straight flush. And even though in most cases both of these hands will win the prize, in video poker there is a difference between both of them. A royal flush would land you the big prize, especially if you are playing a progressive video poker game.
There is also the aspect of not playing against a dealer or another player. This way you can hit a winning combination much easier. You should also know that unlike the multiple rounds of classic poker, there is only a single decision-making point at video poker. Players make a move before the draw and when it is done the game is over.
When you are enjoying video poker, you are well aware of how much every card will cost from the very beginning. This is a perk which regular poker players cannot enjoy unless they, or one of their opponents, are close to going all in.
The essential thing in classic poker is that you will have to beat the hands of your opponents. However, in video poker, except at tournaments and progressive versions of the game, players do not compete against a dealer or other video poker enthusiasts.
While the strategy used in standard poker defines the dynamics of the game and make the seasoned players stand out from the inexperienced rookies, the case with video poker is different. Although the rules may differ between the various video poker games, most of the strategies apply to almost all variations of the game.
Rules of Video Poker
It is fairly easy to understand the rules of playing video poker, especially if you already know the hand ranking system of classic poker. The main goal of video poker is to get the best possible hand by keeping or discarding the cards you are being dealt on the screen.
There are not that many things that you will need to remember when playing video poker. When you load the game, you will simply need to determine the amount you would like to wager and select the deal/draw option. You will be dealt 5 cards, just like in standard five-draw poker. Once you take a look at your hand, you have to decide which cards you will keep and which you will discard. By using the buttons beneath each card, you can pick either to hold or fold it. Once you are done with your choices, you can hit deal/draw one more time and you will see the cards that replaced the ones you decided to discard. After forming your new hand, the game is over and you will be paid accordingly to the rank of your hand.
Although each type of video poker game has a different payout table, you will have no trouble understanding the rank of each hand as they are the same as the ones of classic poker. Some video poker variants require you to have at least a pair of Jacks or a pair of Tens in order to be paid out.
As it was mentioned many times, video poker does resemble slots a lot. This is why you can come across versions of the game that have wild cards or Jokers that can help players form a high-paying hand. It is also possible to be paid differently if you have formed a high-rank hand the natural way or with the help of a wild card. In any case, it is good to take a look at the paytable of the game you have chosen to play before you start wagering.
Video Poker Odds and RTP
When they hear about video poker resembling slots, most people feel like they would lose all of their money if they play the game. This, however, is a common misbelief. The truth is that video poker players can actually enjoy pretty amazing payouts which, in the long run, can even exceed 100%. If you are interested in making your casino adventure more lucrative, you should first get familiar with video poker odds and the Return to Player percentage (RTP).
There are different variations of video poker and this is why it is only natural that some of them may offer better odds than the others. In order to make your online gambling more rewarding, it is advised you look for a game that is more advantageous. If the odds are in your favour and you use the right video poker strategy, you can make your online gambling experience more lucrative.
When you load a certain video poker game, it is always a good idea to check how much will each hand pay. Usually, the most rewarding games are those which offer full-pay. Even in this case, you should still check the paytable to make sure that your gambling will be worth it.
Since we are talking about odds, we should mention the term Return to Player (RTP). The RTP percentage gives players an information about what amount of their stake they would get back on average. So let us say that the RTP of the video poker game that you are playing is 90%. This means that, on average, you will receive 90 cents for every $1 that you have wagered.
There are quite a few video poker variations that offer different RTP. Games like Deuces Wild and Jacks or Better can sometimes offer an RTP of %99 or higher. This would mean that on average players would get 99 cents, or even more, for every dollar they have staked. This definitely sounds like a pretty good deal when it comes to casino games.
It can be said that video slot is one of the most lucrative games both at land-based and virtual casinos. On top of that, there are also progressive video slots which can actually make the game profitable to play. There are even cases in which the RTP of video poker games can go beyond 100% which is definitely an opportunity that is worth it.
Strategies to Help You Win on Video Poker
As it was mentioned several times before, the right video poker strategy can bring you an impressive payout and make your gambling a lot more fruitful. This is why it is important to get used to some popular techniques that can help you turn the odds in your favour. Of course, as with any other strategy, there is nothing certain with video poker tactics as well. You cannot expect that you will always sweep amazing wins. This being said, it will not harm if you rely on some basic strategy when you play video poker.
If you want to improve your chances of landing a bountiful win, you should start by finding the highest-paying video poker variation. This is why you are advised to look at the paytables of all games under this category. With online gambling, it is extremely easy to determine whether one video poker variant is good for playing or not. What is even better, you do not have to make a single bet in order to learn what are the payouts that you may possibly enjoy.
The full-pay versions are known to be the best ones to be played. Full-play video poker games are those which provide the highest payout for hitting a winning hand. All you need to look at the paytable of a game is the payout for a full house or a flush. The former should pay nine times your wager, while the latter must award six times the stake you have made. If they do, this means that the video poker you are playing is a full-pay version.
You would be surprised how high your odds would be if you play a full payout video poker. This is, of course, if you use the right kind of strategy. Sometimes the house's advantage can even drop below 1% which can rarely be seen at any other casino game.
If you want to know which cards you should keep and which ones to discard, you should check the list with hand rankings for each video poker version. This way you will know what move to make after you have been dealt your first five cards. The great thing about playing online is that you can simply look at the list you have prepared and base your decision on which hand has a higher value.
Making a max bet is also a part of the strategy to enjoy a massive payout. This way you can be sure that you can be paid the highest possible amount. If you miss your chance, you can be paid 250 to 1 for the rarely but not impossible royal flush hand. Although this is still a pretty good payout, you can enjoy a reward of 4000 to 1 if you make a maximum bet. This being said, you should still make sure that you can afford placing the highest possible stake. If this, however, does not fit your budget limits, you should continue playing with a more reasonable bet.
Video Poker Basic Strategy
Players' Hand
Draw

4 card Royal

1

3 card Royal

2

2 card Royal (with a 10)

3

2 card Royal (without a 10)

3

4 card Flush

1

1 high card

4

2 high cards

3

3 high cards (J,Q,K)

2

Three of a Kind

2

Any 4 card Straight Flush

1

Any 3 card Straight Flush

2

4 card Straight

1

Two Pair

1

Low Pair

3

High Pair (Jacks or Better)

3

No valuable cards

5
Most Popular Video Poker Variations
There are several popular variations of video poker that many players enjoy and the high payout that they offer is one of the reasons for that. If you are not sure where to start with your gambling adventures, you can always try one of the following versions.
All American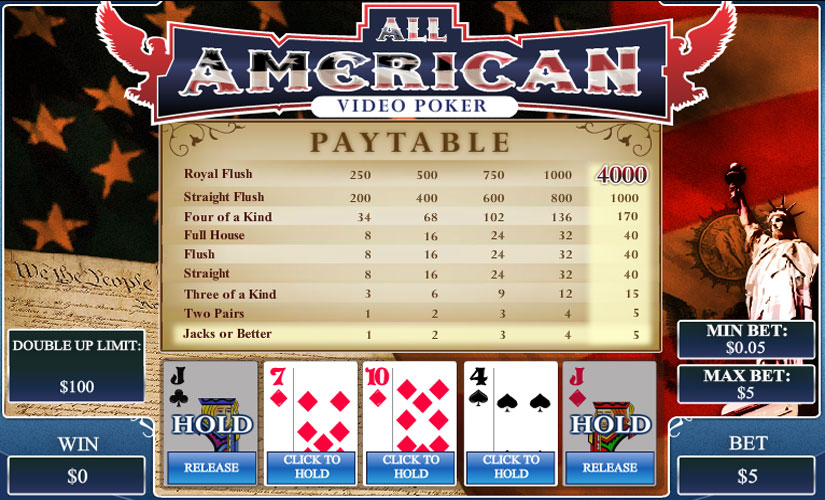 All American is a variation of video poker that resembles Jacks or Better but offers slightly different payouts for certain hands. Players are dealt five cards and they will have to make the decision which ones to keep and which ones to discard before the draw.
There is a lower payout in All American for a two pair and three of a kind and the highest in rank hands award better payouts. If you are presented with a paying hand, do not discard any of your cards, unless you are holding four of the five cards for a royal flush.
If you, however, are not dealt a paying hand, you might want to replace some cards and refer to the following list which shows the hands in All American from the highest to the lowest-paying ones:
Four of a kind, straight flush, royal flush
Four cards to a royal flush
Three of a kind, straight, flush, full house
Four cards to a straight flush
Two pair
High pair (Jack or better)
Three cards to a royal flush
Four cards to a flush
Low pair
Four cards to an outside straight
Two suited high cards
Three cards to a straight flush
Two unsuited high cards
Suited high cards 10-J, 10-Q and 10-K
Jacks or Better
Discard all dealt cards
Jacks or Better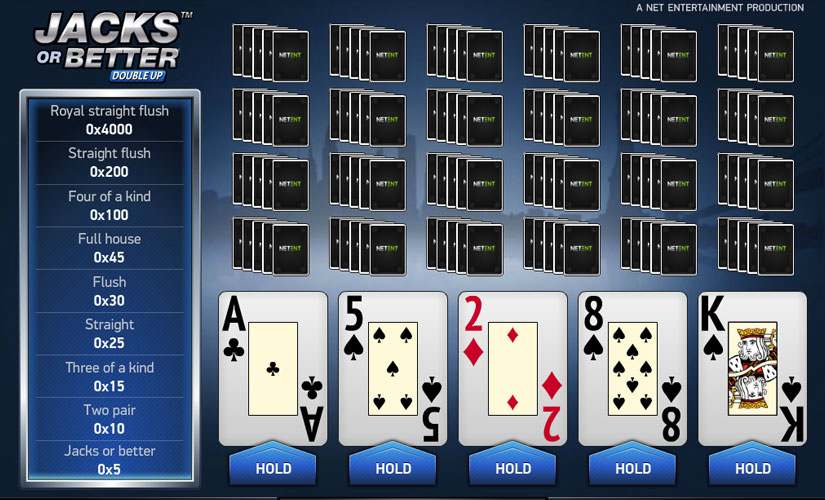 Jacks or Better is yet another version of five-draw poker and it is considered one of the most profitable variations of video poker. In order to achieve a rewarding outcome, you can use the following simple strategy that may help you decide your moves when playing Jacks or Better.
If you are holding a royal flush, which is the highest possible hand, there is no doubt that you should keep all of your cards. There are five more cases in which you should hold on to your cards in Jacks or Better and those include the straight flush, four of a kind, full house, flush and the straight. If after the first hand you were dealt four to a royal flush, you should discard one card. The same action applies to the cases when you are holding four to a straight flush, two pair, four to a flush and four to a straight.
If the first hand has three of a kind, you should discard two cards. You are advised doing the same for holding three to a royal flush or three to a straight flush. If the game has dealt you a hand of high pair, one law pair, two to a royal flush or two high cards, you should discard three cards. Lastly, you should draw four new cards if you are holding one high card and replace all of the five cards if all of them are disconnected low cards.
Deuces Wild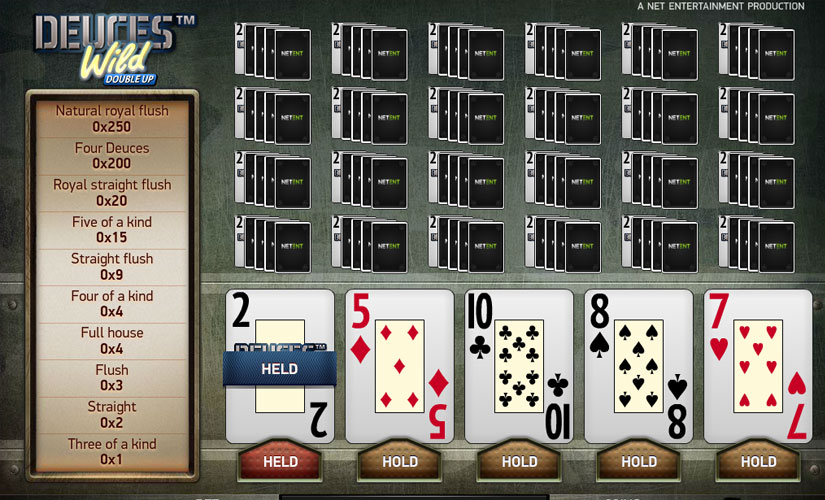 In this version of video poker the two's play the role of wild cards. This means that if you are dealt a hand with deuces in it, you have a better chance of landing a high-paying combination of cards. Since the two's can replace any card of the deck, you can form easily a winning hand in Deuces Wild.
In the worst case scenario, you will have no deuces in your hand but you will still have a chance to form a winning hand by replacing some or all of the five cards. If you have been dealt one deuce and four other cards that will not help you win, keep the one wild card and discard the rest.
The strategy becomes a little more complicated if you are holding two deuces. In the cases when in addition to the two deuces you are holding four cards to a straight flush, four cards to a wild royal flush, a four of a kind, straight flush, a wild royal flush or five of a kind, you should keep all of your cards. In the rest of the situations, you should keep your two deuces and draw three other cards.
If you are holding a wild royal flush or a pair plus three deuces, then you should keep all of your cards. If you, however, do not have any of the aforementioned combinations, you should keep your three wild cards and discard the other two.
Let us assume that you are especially lucky and you get four deuces. Then the only thing that you will have to do is replace the one card that is not a deuce.
Joker Poker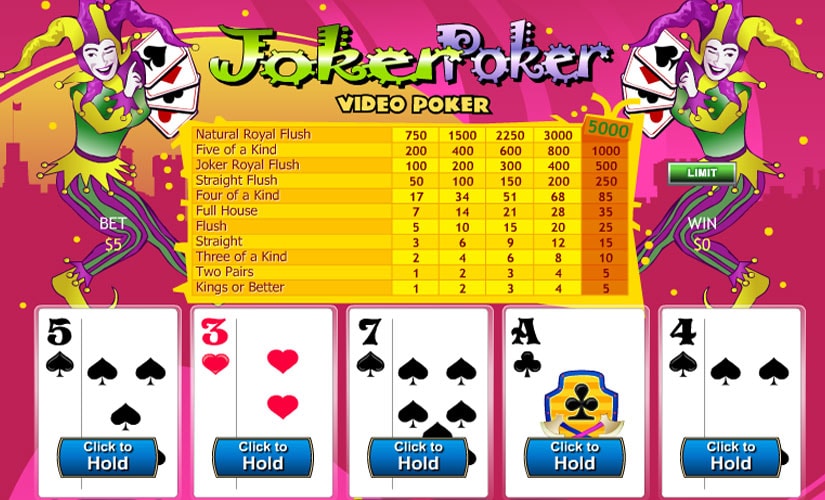 This version of video poker uses all the regular 52 playing cards of a deck plus a Joker that plays the role of a wild card. This means that Joker Poker is one of the few versions in which you can draw a five-of-a-kind hand.
The Joker poker strategy is pretty easy to understand. If you are holding a royal flush, straight flush, four of a kind, full house or flush you can simply keep all of your cards. You are advised to discard one of your cards if you have four to a royal flush, four to a straight flush, two pair, four to a flush or four to a straight.
There are three cases in Joker Poker when it is recommended you draw two new cards and those are when you are holding three of a kind, three to a royal flush and three to a straight flush. If your hand has a high pair, you should discard the other three cards. You should do the same if you are holding one low pair, two to a royal flush or two high cards.
If you have only one high card it will be better if you draw four new cards and replace all of the five cards in your initial hand if they are of low value and cannot form a winning combination.
Progressive Video Poker
What makes video poker an exciting casino game is the fact that there are also plenty of progressive variations online. The progressive jackpot of video poker can be won when players make a maximum bet and hit a royal flush. This can award virtual gamblers with a pretty impressive payout.
Progressive video poker can use the rules of different variations such as Jacks or Better, Double Bonus and other. It should be noted that only players who make a maximum bet will be qualified to receive the constantly growing jackpot. Another thing is that the massive award can be won only if you land a royal flush.
You can increase your chances of hitting the winning combination if you keep only the cards that may form a royal flush. However, this would mean that you would have to give up on hitting lower-paying hands. However, if you are not chasing after the jackpot, you can simply play other variations of video poker where you might use the right kind of strategy.